Wholesale Bulk Hot Glue Sticks Available in Various Colors and Diameters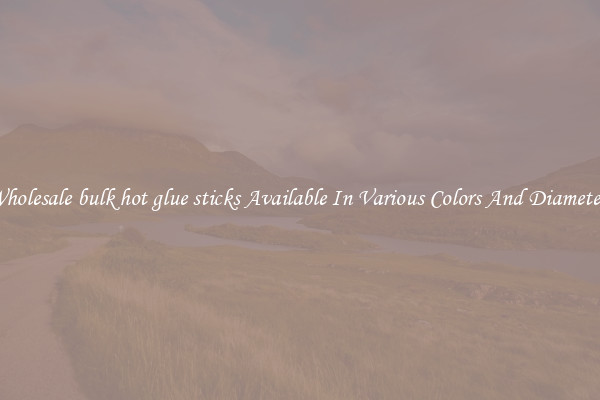 Hot glue sticks are a versatile and essential tool for crafters, DIY enthusiasts, and professionals alike. Whether you are working on a school project, creating a unique piece of art, or assembling furniture, having a steady supply of hot glue sticks is crucial. But why settle for plain, colorless glue sticks when you can have a wide range of options to choose from?
Wholesale suppliers now offer bulk hot glue sticks in various colors and diameters, providing customers with endless creative possibilities. No longer limited to the traditional transparent or amber glue sticks, crafters can now select from a vibrant spectrum of colors, including red, blue, green, purple, and even glittery options. These colorful glue sticks can be used to add eye-catching accents to craft projects, decorate party decorations, or easily distinguish between different materials.
The availability of glue sticks in different diameters is another advantage for both crafters and professionals. Depending on the task at hand, you may require a thicker or thinner glue line. Smaller diameter glue sticks, such as 7mm or 0.27 inches, are perfect for delicate projects that require precision and a small amount of adhesive. On the other hand, larger diameter glue sticks, like 11mm or 0.43 inches, provide a stronger bond and are ideal for heavier-duty applications.
Wholesale bulk hot glue sticks are not only an excellent choice for individual crafters but also for businesses that use hot glue sticks regularly. By purchasing glue sticks in bulk, businesses can save money in the long run and ensure that they always have an ample supply on hand. Furthermore, the availability of different colors and diameters allows businesses to cater to various client preferences and expand their range of services.
It is important to note that when purchasing wholesale bulk hot glue sticks, quality should never be compromised. Reliable suppliers ensure that their glue sticks are made from high-quality materials, providing a secure and long-lasting bond. Additionally, these sticks are designed to work flawlessly with standard hot glue guns, ensuring a smooth application every time.
Before choosing a supplier for wholesale bulk hot glue sticks, it is recommended to do some research and compare prices, product range, and customer reviews. Reputable suppliers often offer competitive prices, discounts on bulk purchases, and reliable customer service to cater to the needs of their clients.
In conclusion, the availability of wholesale bulk hot glue sticks in various colors and diameters has revolutionized the crafting and DIY industry. Whether you are working on a small-scale project or running a business, having access to these versatile glue sticks allows you to explore your creativity and achieve professional results. So why settle for plain, colorless glue sticks when you can have an array of vibrant options at your fingertips?